Built by Industry experts,
for industry experts
Before Schedugram, you had to do all of the work yourself – logging in and out of accounts, carrying multiple phones, or responding to reminders at all hours of the day to post your content.
With Schedugram, we do it all for you using an innovative yet old school way. We use a pool of phones (yes, physical real-world phones) in Melbourne, Australia to post for you, just like you would by hand.
No sneaky business behind the scenes, just a lot of phones and some cutting-edge technology.

Made for work-life balance.
Schedugram helps every user save upwards of 100 hours every year. Here's how we do it:
Schedugram automatically converts your uploaded files into the right size and format for Instagram.
Our Queue features makes sure you don't have to choose the time that work for you every time.
Unlike others, at the time needed, we post your photos or videos automatically. No notifications, nudges or confirmations.
Sit back and relax.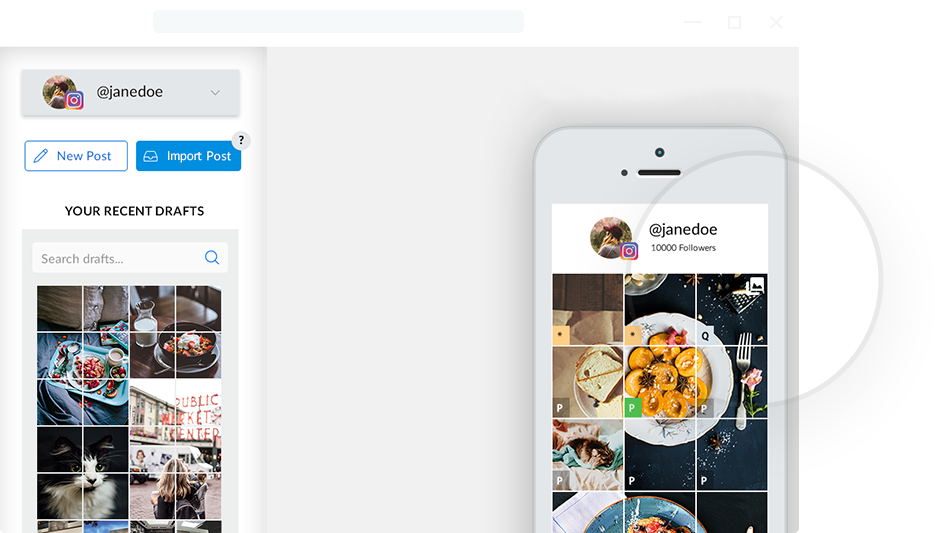 New! Plot your posts with our Instagram Planner
Planner is a great way of visually planning how your posts will look like on an Instagram grid.
Drag content from your drafts into the grid, move the posts around (both scheduled, queued and draft posts) and then make any changes necessary to make the posts look just the way that you want.

Queue posts to save time
Our Queue feature lets you save even more time, while also growing your Instagram following through posting regularly.
Set the times and days that you want to post images or videos to Instagram, and then just upload your content. You can drag-and-drop to reorder your queued posts at any time.
It's the easiest way to queue your posts to Instagram.

Work your way
Schedugram has multiple layouts to let you schedule your Instagram content in a way that works for you. Use our calendar interface, or view your posts in a list, grid or table view.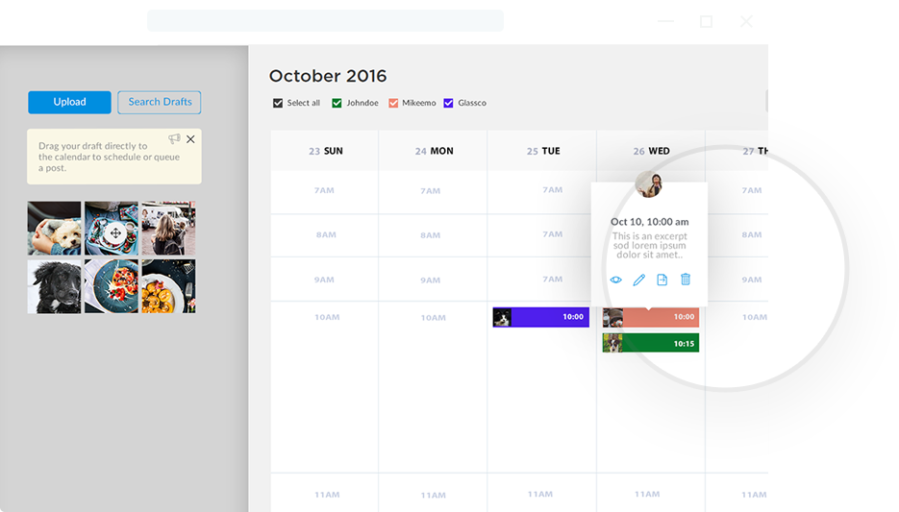 Drag & Drop to
the calendar
Use our easy-to-use interface to upload images and videos from your computer, or directly from Dropbox.
You can preview all your upcoming posts in Calendar or use Planner to plan them out in a beautiful grid.
Spend less time managing Instagram, more time enjoying those Instagram-worthy moments.
Manage multiple
accounts
Whether you manage one or one hundred accounts, Schedugram can help.
Schedule your content to multiple accounts, and easily switch between different accounts in our interface.

Designed for teams
and Professionals
Every account includes unlimited users that you can invite to help you manage your Instagram accounts.
Invite other people to collaborate on one account, or all of your accounts. You'll see who has scheduled each piece of content.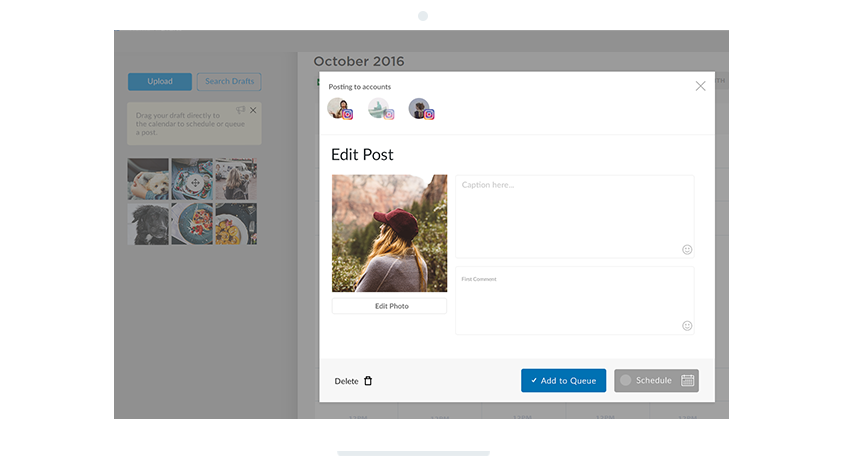 Image editing tools
baked in
Get your images looking the best possible using our in-browser editor. You can crop, resize, add stickers, and of course add filters to your images before scheduling them to Instagram.
Fully packed app?
Why, yes.

Schedugram offers:
Unlimited additional users
Full-featured image editor
Canva integration
Posts are posted automatically
Handy mobile apps
Visual grid planner
Drag & Drop calendar view
Video scheduling
Instagram Story scheduling
Image scheduling
Carousel / gallery scheduling
Unlimited post drafts
Link in bio tracking
Hashtags in first comment
Queue slots for regular posting
No notifications or alarms to post
100+ hours saved every year
Top-notch support
+ View more...
Hanna Wadell, Marketing Manager

I take care of three Instagram accounts and don't know what I would do without Schedugram. Incredibly easy and new amazing features are constantly evolving.

Lionel Jackman, Freelancer

Schedugram makes it seamless for my team to upload content across multiple accounts, add descriptions or hashtags, then pass to the client to approve before going straight to Instagram, all within the one platform. Fantastic!
Get Started
Get your evenings and weekends back. Sign up and try Schedugram today.
Free 7 Day Trial
Looking for something else? Contact us and we'll get back to you as soon as possible.