How Often Should You Post on Instagram in a Day?
Big brands post an average of 1.5 times per day.
There's no decline in engagement for posting more or less than one post per day. What matters is that you consistently maintain the rate of your posts on a weekly basis.
Many brands such as GoPro , Huda Beauty and Airbnb post multiple times per day. The reason being that posting more actually increases engagement rates and follower growth rates. This logic makes sense given that if you create content frequently, then followers will keep returning to interact with your new content.
So how many Instagram posts should you schedule per day?
Social media marketers often face this dilemma. We want to reach the maximum number of eyeballs for every post. We want to post at the right moment to engage with the most number of followers.
The problem is we end up guessing a lot.
There are a lot of studies on the best (and worst times) to post on social media. But trying to identify how many times YOU should post on Instagram is a bit tricky.
While it's safe to say that you should post on Instagram at least once per day everyday, the number of times in a day isn't set in stone. You can't just take an average of your competitors' frequency to determine what works for you.
There are different factors that you can consider depending on where you look. On the bright side, as long as you know the right rules and best practices you can create a strategy that works best for your business.
Step 1: Understand the Factors That Impact Post Frequency
When it comes to posting on Instagram, there's no mandated frequency.
It's true that you can read different eBooks and articles to get a rough idea of the X times you should post per day, but you're the only one who can find out what works best for your account.
The reason being that you have different audiences with different demographic data, locations and interests.
For example, you can't expect a B2B company to post at the same time as restaurants. Nor can you expect an international travel agency with different followers from around the world to post in the same time, regardless of the time zone.
That said, what should determine how many times you post and when?
Engagement
Instagram favors post with high levels of engagement, immediately after its posted. That's why if only a few of your followers are online, then you're at a significant disadvantage. If there's a drop off in your initial engagement , then you rank lower on Instagram's algorithm.
This is why it's important to post frequently, but at the best times.
Target audience
Its important to consider the time most of your followers are likely to engage with your content.
Again, you can't expect B2B companies to have the same spike in engagement, like travel agencies. The reason being that people are more likely to see B2B content while they're at work, and enjoy travel content, while they're home with their family or hanging out with their friends.
TrackMaven tried to determine the best time to post for food and beverage businesses. Their results found that the most impactful time to post was on 9 a.m. to 10 a.m. EST, followed by 12 a.m. to 1 a.m. EST and 10 p.m. to 11 p.m. EST.
Of course, the results will vary depending on the country that you live in and your time zone.
This brings us to the next factor…
Time zone
To state the obvious, you should consider the time zone of most of your Instagram followers. This is especially important if you're an international business.
After all, if most of your target followers are on Australia, then you shouldn't post on a time that's convenient for Americans.
Now that you're familiar with the basic factors, let's dive into how you can determine the data.
Step 2: Leverage Instagram Insights
If you have a Business Profile on Instagram, then you can access Instagram Insights. This features provides you with basic stats that help you determine the impact of your marketing efforts.
To view Insights, visit your business profile,
Tap the
icon at the top right corner.
With insights, you get an accurate and simple data on your profile views, website clicks, follower fluctuations, top locations and audience activity times, depending on the time period you specified.
At the same time, you can also select the specific posts, stories and promotions that you'd like to see Insights on. This way, you can easily determine which posts work, as well as determine fluctuations in your account.
Step 3: Analyze Audience Data
Once you've tapped the insights icon, you can click on the followers section to get detailed insights on your audience.
Instagram Insights lets you know the time your followers are on Instagram. You can view the number of followers, gender breakdown, age breakdown and the top locations of your followers.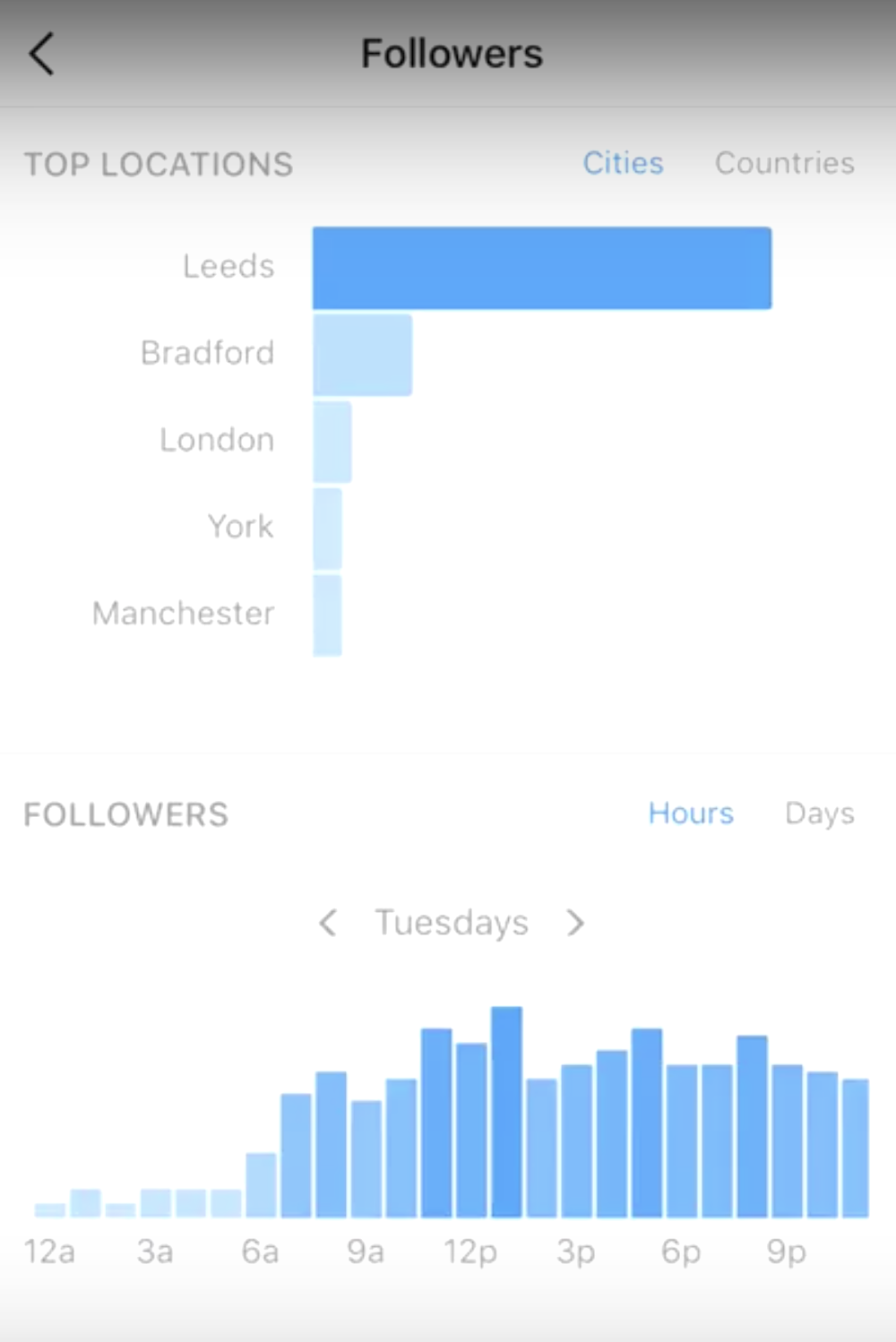 If you're running Instagram ads, Instagram insights provides you with relevant information on the campaigns you're running.
You can use data generated from Instagram Insights to determine your Instagram peak times. The amount of times you post can be based on your peak times and time zones.
Let's say, your peak times are on 12 noon, 5pm and 10pm on Tuesday and Thursday. On Friday, your peak time is at 12 noon and 10pm. You can opt to post three times a day during Tuesday and Thursday, and on Friday you can post twice a day.
Now, what if you're an international fashion brand with a lot of fans in the U.K. and the US? You can determine the peak times for followers in the two time zones.
For example, let's say your U.K. fans are most active at 1 pm, while your American fans are most active on 11 p.m. You can post two times a day to generate engagement for your followers, located in separate timezones.
This is how you use audience data to determine your post frequency.
Step 4: Ask Your Followers
Another way you can determine how many times a day you should post, is to ask your followers.
Simply create a post with the caption, "how many times in a day should I post on Instagram?" and "What's the best time to post on Instagram?"
Instead of tallying your comments, you can add a link to a survey in the post. You can ask these questions in different ways. You can ask how many times in a day should you post from Sunday to Saturday, with a different answer for each day.
You can also conduct interviews to determine when your followers return to your Instagram profile and the reasons why. It's important to collect data on your followers' behavior patterns to determine your ideal posting times per day.
Step 5: Determine the Capacity of Your Team
As we've mentioned previously, once you've chosen your post frequency per day, you have to be consistent.
Let's say, you've decided to post 3 times on Wednesdays and Fridays and twice on Monday, Tuesdays and Thursdays. You don't just stick to this frequency for 1 week and change it the next week. Instead, you commit to do it every week.
The reason being that you want to avoid major changes in your Instagram engagement. If there's a dip on Mondays and Wednesdays and a rise in engagement on Tuesdays and Thursdays, there's a chance that you'll rank lower on Instagram's algorithm.
On the bright side, one way you can determine your post frequency and stay consistent is to determine the capacity of your team.
How many photos can your creatives publish per week? Is your team ahead of schedule or are they constantly struggling to keep up with the post frequency?
Consult with your team to determine how many posts they can publish on a weekly basis. By putting them down on paper so to speak, your team won't be scrambling to meet deadlines.
Step 6: Experiment
Determining how many times in a day you should post involves a lot of experimentation.
You can start by reading various studies and articles on the best scheduling times. You can find similarities in various studies and stick to 'em. Or you can use the data you got from Instagram Insights or your surveys, to determine where you should start.
Try posting on 9 pm instead of 5 pm and see how this impacts your engagement. Did posting three times a day get you more engagement than posting once a day? Or it doesn't matter whether you post once or thrice in a day? If you post at 7 pm and 8 pm does the first post seem ignored, as compared to the second post? Or do they both get the same amount of attention?
Don't be afraid to find out.
Determining what works and what doesn't is all a part of the process.
Be sure to track and compare your results, and figure out what works best for your account.
Once you've found what works best for you, then stick to it. But remember that as you grow and expand your following, your data will change.
Three months from now, you may find out that there's not much of a difference between posting twice or thrice in a day. Or posting on 12 noon, might no longer a good idea.
Its important to experiment and revisit the data after 3 to 6 months. As you gain new followers' the frequency that works best for your audience is expected to change.
Step 7: Decide How Many Times a Day You Should Post on Instagram
So you've gathered data from your Instagram followers and Instagram Insights. You know how many posts your team create on a weekly basis. And, you've conducted experiments and tests and figured out the peak times and the ideal number of times you should post.
Now… what's next?
It's time to decide how many times a day you should post on Instagram and to commit to this schedule.
Once you've determined post frequencies for every day of the week, the next step is to create a plan.
Step 8: Create a Monthly Calendar
Its time to put your plan into action.
Create a monthly calendar and schedule how many times in a day you'll post and when. Don't forget to also schedule when you'll take the photos and create the caption. This allows you to stick to a plan and not get too burned out on the content creation phase.
A good tip is to update your timeline each time you have a meeting. Are certain team members unavailable in certain days? Are there other projects that need more attention in the upcoming week?
Be sure to know everyone's schedule, so you can stay consistent.
Step 9: Follow-up With Weekly Team Meetings
It's easy to come up with a consensus on how many times you'll post per week, but following through with it is another story.
Sometimes your photographer will unexpectedly call in sick. Other times, your marketers are busy preparing for another event.
Naturally, the number of posts you create per week will be bound to fall behind. Changes in schedule are inevitable, but you want to avoid them as much as possible.
One way you can maintain your frequency is to conduct weekly team meetings.
Determine the weeks members on your team are scheduled to work on another project or event, and plan accordingly.
For instance, let's say you had a meeting and your photographer and marketer announced that they'll be busy in a company event two weeks from now. They won't be able to reach their weekly quota of Instagram posts.
With that in mind, you can plan ahead and ask them to allot more time for creating posts next week. Or, you could brainstorm post ideas that are easier to execute, so you can create more posts to compensate for your lack of time the following week.
Not only for this method ensure you can maintain the number of times you post in a day, but it's also a great way to evaluate your weekly Instagram strategy.
Note that in order for this strategy to work, you have to know your team's problems.
Sometimes you can't get the props for the shoot on time. Other times, your marketers are busy with other client's or they're on vacation.
Once you identify these problems, it's always best to stay ahead of schedule.
For example, you can always schedule posts two weeks ahead of time, or maybe even a month. This way, if you fall behind, you have time to catch up and think of a solution. There won't be a massive blow to your Instagram strategy.
Step 10: Use an Instagram Scheduler
After you've decided on how many times a day you would post on Instagram, it's time to use an Instagram scheduler,. This makes it easy for team members to schedule their posts ahead of time.
We might be biased, but we'd love it if you used Schedugram for your posts.
For the uninitiated, Schedugram is the best Instagram scheduler in the industry. It has a variety of features that are great for businesses. You can use it to manage multiple accounts, schedule posts, upload photos or videos. It lets you schedule posts from your PC, or on mobile apps on iOS and Android.
To schedule your first post with Schedugram, click the "Upload posts" on your dashboard.
Next, select the account/s where the image will be posted. You can schedule multiple images to various accounts at once, or a set of images to one account. After that, click the "Upload" button to choose the photos or images that you would like to upload.
In the bottom right corner, you'll find a text box where you can write the post's caption and type the hashtags you'll use.
Schedugram also allows you to edit the photo right before posting. All you need to do is to select the pencil icon on the left-most side, above the word "Story?".
Once you've clicked it, Instagram Image editor will appear. Here, you can crop photos, apply filters, rotate images, choose frames, add stickers and a lot more! If you're satisfied with the image, click the "Save" button on the top right corner.
Beside the pencil icon, you'll find other icons which you can click to tag accounts, preview your post and upload carousels.
Once you are satisfied, you can add the post to the Queue, save it as a draft, or schedule it for a specific time or date.
Clicking the "Time / Date" option, allows you to schedule your posts. Choose the date and time that the image will be posted on Schedugram, then click "OK." If you want to schedule the post right at this moment, then you can click "Post Now."
Afterwards, scroll up and click the "Submit" button on the the upper right corner. Your picture is posted at the time and date that you indicated.
What's great about Schedugram is that you can schedule multiple posts per day. Once you schedule the post, you don't have to be online or on Schedugram. All you need to do is sit back and relax, as we do the work for you.
Schedugram isn't free, but you can try our 7-day trial to try it out for yourself. Once the trial period ends and you opt to use our service, you will get charged either $20 a month or $200 a year, depending on the payment option you choose.
Our software will cost you, but we promise that the end results are worth it.
An added bonus is that our platform is user-friendly. also easy to use. You'll be able to efficiently edit and schedule your posts fast and efficiently.
Just schedule your post, and leave everything to us.
Summary
Understanding the factors that impact your Instagram post frequency (i.e. engagement, target audience and time zone), Instagram Insights, follower behavior and preferences and the capacity of your team, will help you determine how many times a day you should post on Instagram. There's a lot of factors you need to consider, but getting it right will help you achieve Instagram success.
After you've determined how many times you'll post per day, you should conduct weekly team meetings. This way, you can always stay on track and follow-through with the plan you created.
Just make sure that once you pick a schedule, you commit to it and stay consistent. Doing so will help you skyrocket your Instagram engagement and grow your profile the best way possible. It may be difficult to do at first but the gains are worth it.
Don't forget to always plan your posts ahead of time. This way, if your team has a change ins schedule, you have time to catch up and provide solutions.
Ready to post on Instagram and jumpstart your Instagram strategy? Don't forget to use Schedugram to schedule your posts in advance. We make it easy for you stick to your schedule, for as little as $20 a month. It might cost you, but at least you don't have to drop everything, just to stay on schedule.