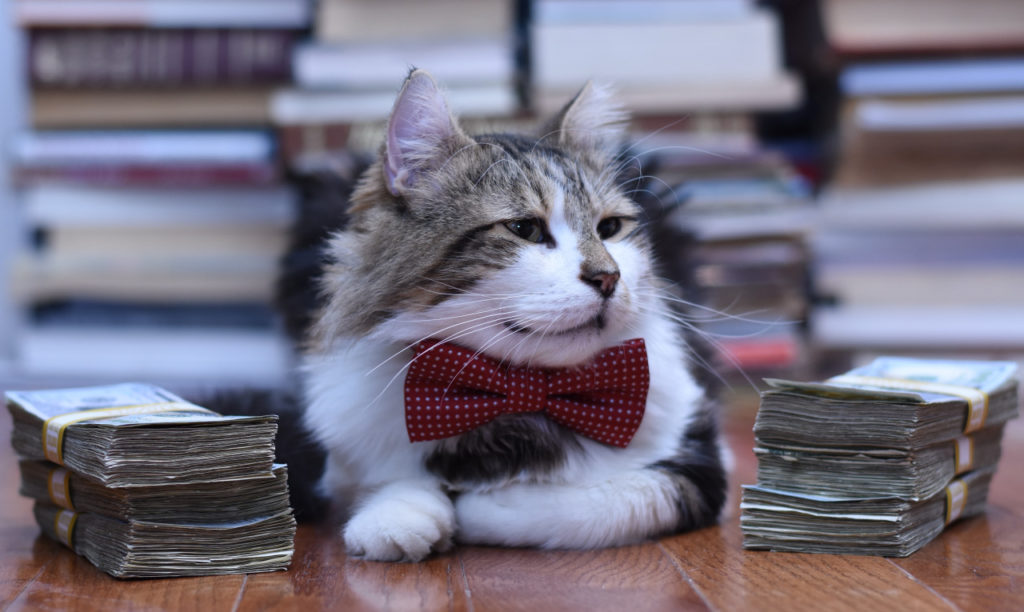 (image source – from Cashcats.biz, one of the best strangest Tumblr accounts ever)
We're biased, but think that Schedugram is the best Instagram scheduling platform ever.
Our customers include anyone from small businesses who use Instagram to get more customers through the door, through to fashion influencers, global media companies, fortune 500 brands and more.
The one thing that they all have in common is that they use Instagram (duh) – but they might be in-house or agency experts, or social media might be one small part of their everyday business.
What we want to do with our blog is to publish stuff that they (including you, probably!) will find interesting and engaging.
Our content is featured in our email newsletter to customers and other members of the community, as well as being displayed within the Schedugram dashboard.
But the best people who know what will be interesting and engaging for our customers, are our customers! So we have a program where you can get paid (!) to write for us. More details below, but we pay you via Paypal, Schedugram credits or can donate that amount to charity (Medicins Sans Frontieres is charity of choice) – you choose.
We pay our contributors to ensure we're posting high quality content.
Our founder previously ran a consulting business, so understands that time is money, and it takes time to write quality content.
Additionally, we don't want our blog to become a self-promotional collection of posts from people trying to drum up business…while there are ways of promoting your services while also providing value, that can be a difficult line to toe!
Full disclosure – we got the inspiration for this from DigitalOcean, a hosting company that has a similar program.
Table of contents
How we write
You don't have to be a native English speaker with a PhD in grammar.
What we do expect though is that your content is well thought-out and structured, and suits our audience.
It can be an article on advanced analytics that requires some assumed knowledge, or something aimed at beginners – either way, you should know who you are writing for and keep their level of knowledge in mind.
We expect to do a light edit on all posts before we publish them, but anything you write should have gone through a spell checker first.
We prefer UK English because we're an Australian company, but we won't worry too much about US English either!
Shorter is better.
Don't use 50 words when you can use two.
Being direct and to-the-point is something that makes writing easier to read.
Additionally, make sure you use paragraphs to break up your content!
We aim for our posts to be practical – whether you're writing about a technique that you've used, or a case study of a successful account, you should focus on providing practical advice that people can use to improve how they use Instagram too.
In terms of tone, we write informally  in a friendly style. Personal pronouns (I, me etc) are all okay.

The kinds of things we publish
This is a new program (launched April 2017) so we don't have a big archive of posts that we can use as examples.
We also don't want to overly limit you either – creativity is welcome! The categories below are a place to start, but don't intend to be exhaustive.
Currently we are publishing in four broad categories (things can be across multiple categories though):
Instagram strategy
Things that make you successful on Instagram. This might be about understanding hashtags for example, tips on making the most from your business profile or how the Discover feature works.
News and trends
The latest happenings in the space (related to Instagram). We are thinking these should be a bit short-and-sweet, like our post on the carousel/multi-image feature.
Social media marketing
Information on social media marketing – including setting a strategy, checking how you are going (analytics, ROI) and ways that you can use it to succeed.
Case studies
Case studies about successful accounts or strategies. Success should be defined as clearly related to the account owner (business, non-profit etc).
It's not just "getting as many followers as possible" – often an account with 1,000 followers actually does better for a business (in terms of ROI) than one with 10,000.
Opinion
Perspectives on the industry and trends. For example, see our post on Snapchat's IPO and what it means for Instagram.

What we won't publish
As mentioned before, we won't publish articles that:
Are just self-promotional in nature. It's fine to include a bit about your professional background where it's relevant (and we run a 100-word bio of the author)
Encourage people to do things that are illegal or go against Instagram's terms
Are totally irrelevant to Instagram. We welcome posts on things like design, general social media strategy, or anything else that relates to Instagram though, but we won't publish "How to use Google+ as an eCommerce Store"
Have already been published elsewhere – whether on your own blog or on a third party platform. We want unique, fresh content!
The process of writing for us
We don't want you to come to us with a ready-written article that you've already spent a thousand hours writing!
Much like a traditional newsroom, we ask that you 'pitch' us the post and 'angle' (unique perspective, more here), and we'll let you know if we are interested in publishing the article. If we love the idea, we'll ask you to go ahead and write it!
We're still working out some of the finer details.
While we hope that it won't happen often (or ever), we do reserve the right not to publish something if it ultimately doesn't work for the style or strategy of what we post.
We obviously also reserve the right to cancel or withdraw this program at any time.
You get paid when the post is published.

What we pay you
This is still developing as well, so consider this our 'v1.0' pricing.
While we talk about words here, it's mostly a measure of how much time and effort has gone into the post.
We won't publish the kind of drivel that sounds like you've packed in extra words just to meet the word limit (this isn't a school essay).
If there's a short post that we know will take a lot of time, we might pay the long form piece price.
Note that we don't pay or withhold tax etc – you are responsible for any legal requirements associated with your writing for us.
In Australia, this would probably be considered as a payment as a hobby rather you providing some kind of business service.
If you are a professional writer though, we may need you to provide us an invoice for your services.
Long form pieces (1,500+ words)
For longer pieces that are in-depth or perhaps that involve extensive interviews or research, we will pay you US$200.
Short form pieces (~750-1,500 words)
For these short pieces, we will pay you US$100.
Note that turning a ultra-short piece into a short piece won't necessarily make it a short form piece! It's meant to be a measure of the amount of time and effort put into writing.
Ultra-short form pieces (quick tips, news – 100-300 words)
For the kinds of quick pieces that are 100-300 words long (like a quick summary of Instagram's latest feature) we will pay US$50.

Things that all posts need – format and structure
All pieces will need a title and a short summary (up to 50 words) that we will use on our blog list.
Your piece should also include at least one image that we can use (or an idea of what we should use as an image) as the featured image of the post.
It needs to be appropriately licensed, so don't just rip stuff from Google Images. Good places to find images that are a bit unique are Unsplash, Pixabay, or Pexels.
If your post contains lots of images, no worries! We just need you to choose one that will be the featured post.

How we pay you
When we accept your piece for publication, we'll pay you! You can provide us with a Paypal email to send funds to, your Schedugram email address if you'd prefer it as an account credit, or let us know you'd like it donated to charity in your name.

Pitch us a piece!
Okay, so you haven't been turned off yet. Use the form below to 'pitch' us a piece. We hope to get back to pitches within a couple of days.
For some general advice on how to write a good pitch, check out these links: